Every day in the city so far has brought a smile to my face, be it visual inspiration, food delights, cultural differences or just plain random occurrences.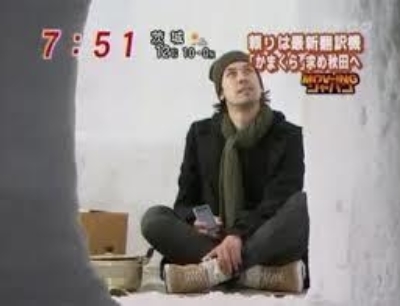 The highlight of my time in Tokyo so far was an 8 minute appearance on Mezamashi TV, who sent me to Akita in the north of Japan to test out a new iPhone application. Jibbigo is a voice translation application. Hold a button down on your iPhone whilst speaking English and Japanese comes out the other side.
In true Japanese TV style, they created a story of me using the application in Tokyo and then trying to find my way to Akita, to see the legendary "snow house".
It was great to see some remote parts of Japan, ride a bullet train, try some lovely local delicacies and look silly on TV - all from one random occurrence in the street.
I won't be winning any acting awards and will defiantly stick to designing websites.